PSaaS Appliance: Extensions
While using Extensions in the PSaaS Appliance is very similar to using Extensions in the multi-tenant installation of Auth0, there are some differences.
You may receive updates to Extensions at any time without prior notice.
Set up and enable Webtasks
You must set up and enable Webtasks before you can use Extensions.
To set up and enable your Webtasks, go to the Webtasks page under Tenant Settings in the Management Dashboard.
When you activate a Webtask in the PSaaS Appliance, you get a URL specific to that instance of the Webtask service. By default, this URL is structured as follows:
webtask.<auth0applianceurl>
In order for you to configure Extensions, you will need to add this URL to the Allowed Origins (CORS) section under the Auth0 Dashboard's Application Settings page.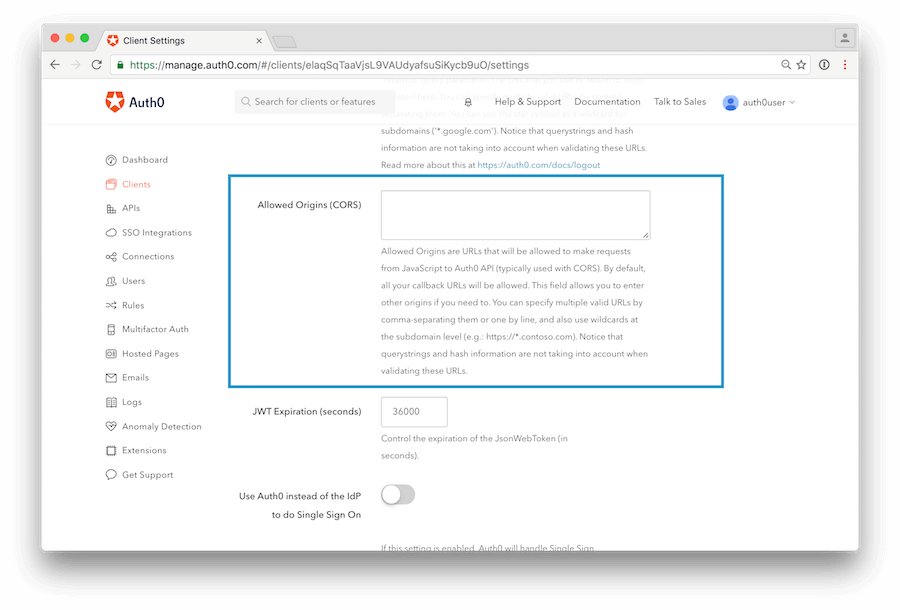 At this point, you can enable any of the available Extensions in the dashboard and use them just as you would if your Auth0 installation were running in the cloud.
Delegated Administration Extension
The Delegated Administration extension is available beginning with version 10755 when User search is enabled.
Beginning with PSaaS Appliance version 13451, you may now configure Webtask on a dedicated domain. This enables you to safely use extensions in multi-tenant environments (the behavior is akin to that of the Auth0 Public Cloud Service).
If you are planning on using Extensions, you must implement Webtask dedicated domains.