Register a Single Page Application
To integrate Auth0 with front-end apps that run in a browser (e.g., Angular, jQuery, React), you must first register your app as a Single Page App.
Navigate to the Dashboard, and click on the Applications menu option on the left.

Click the + Create Application button. The Create Application window opens.

Set a descriptive name for your application and select Single-Page Apps.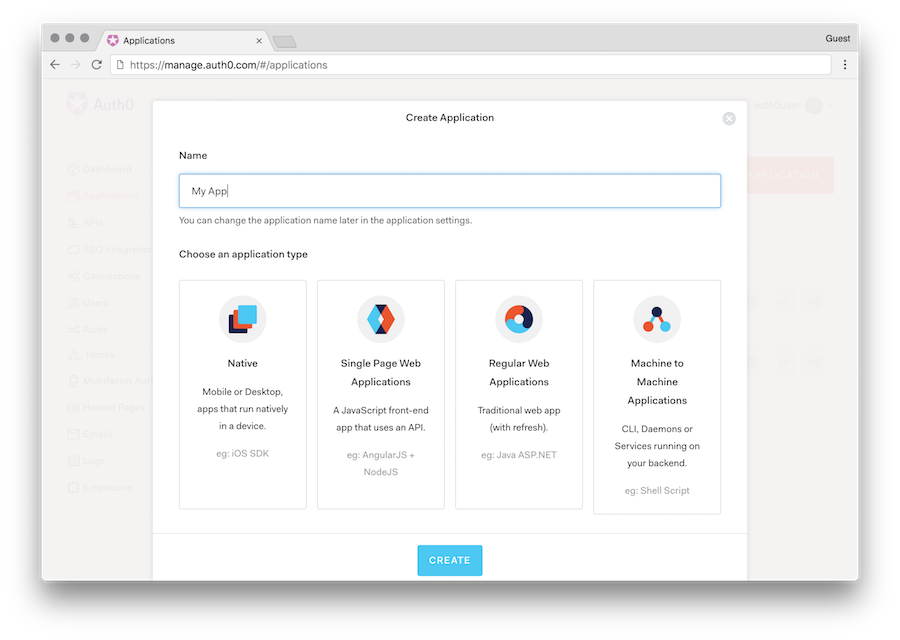 After you set the name and application type, click Create.
A new single-page application will be created, and you will be redirected to the application's settings with the following additional tabs available.
The Quick Start tab shows all the available examples for single-page applications.
Add-ons are extensions associated with applications. They are typically third-party APIs used by the application(s) for which Auth0 generates Access Tokens. For more details, refer to: Add-ons.
Connections are sources of users that can be shared among different applications. For more detail, see Connections. For a detailed list on the supported Identity Providers, see Identity Providers Supported by Auth0.
By default, most of the settings will be created for you. You can explore all available settings at Dashboard Reference: Application Settings.
You can explore all available settings at Dashboard Reference: Advanced Application Settings.
Once you have configured your Application, some common next steps to take are: