How to Set Up AWS for Delegated Authentication
Disqus Single Sign-On Integration
Disqus allows you to embed a discussion section onto your site where your users can enter comments and interact with you and your other visitors. By implementing a SAMLSingle Sign-on (SSO) integration between Disqus and Auth0, users that have signed in and authenticated via Auth0 can leave comments as themselves in your Disqus discussion section.
Step 1: Create a SAML Provider in AWS
Install and Configure Disqus
If you don't already have an account with Disqus, create one. If you do, log in.
Select the I want to install Disqus on my site box.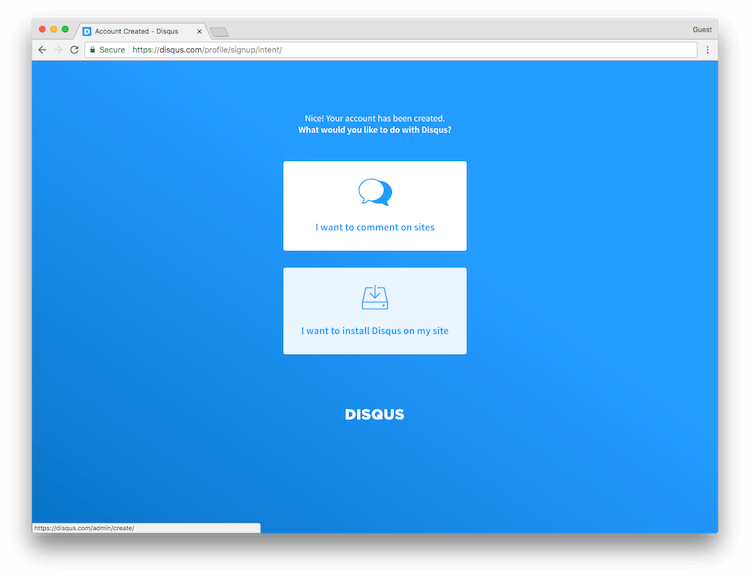 You will be directed to the Create a new site page. Provide your Website Name and your website's Category. When you've provided the requested information, click Create Site to continue.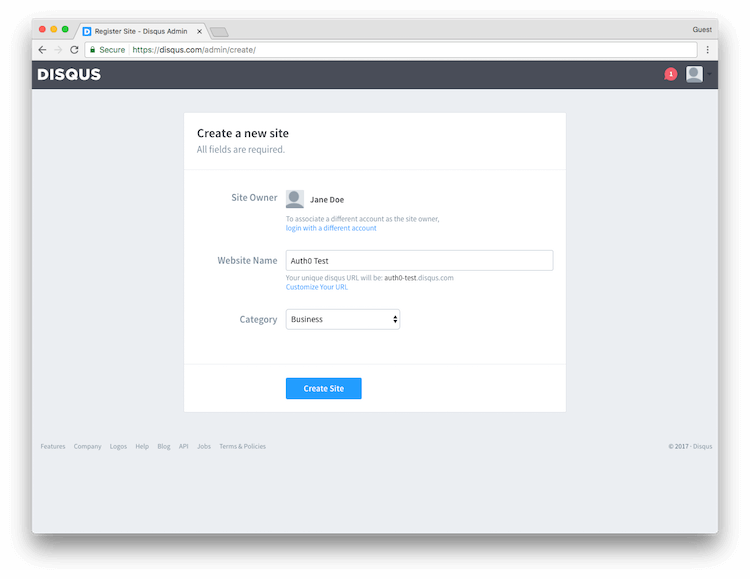 Select your site's platform to receive customized instructions on installing Disqus and embedding its UI onto your site. If the platform you're using isn't listed, select I don't see my platform, install manually with Universal Code at the bottom of the page.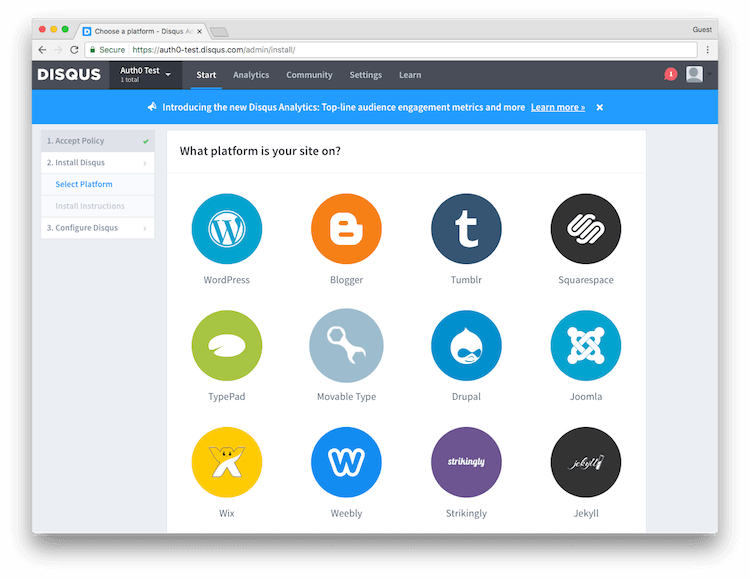 When you have finished the installation process, click Configure to move on to the next step.
Configure your Disqus installation by providing the requested information about your website. When done (or if you want to complete this at a later time using the Settings page), click Complete Setup.
Step 2: Create a Role for Your SAML Provider
Enable and Configure Single Sign-on with Disqus
Once you have installed and configured your Disqus instance, you need to enable SSO.
Navigate to the Applications section of the Disqus API to register your application.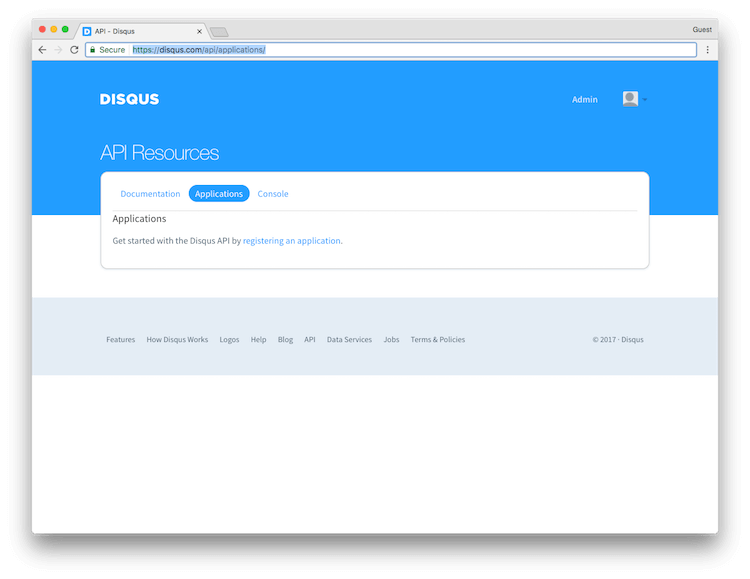 Provide the requested details about your application. When complete, click Register my application.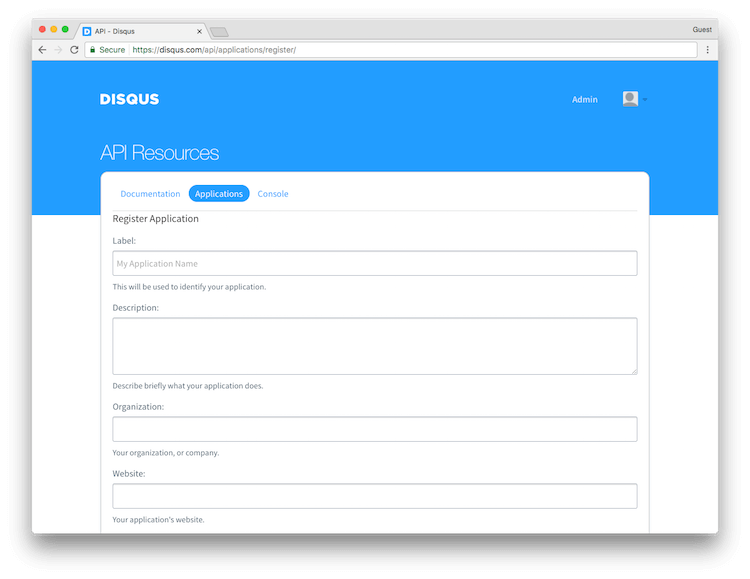 You will now see your Auth0 application listed in the Disqus Applications panel.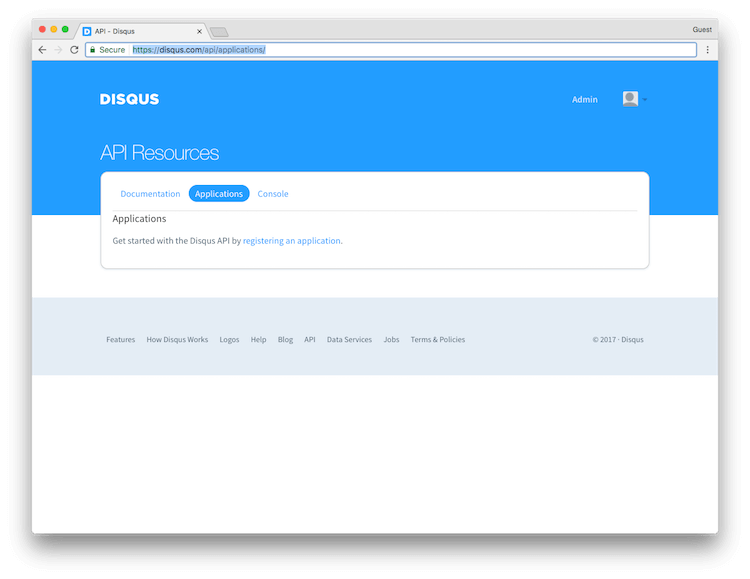 Click on the Single Sign-On tab to go to the SSO management area where you will configure your remote domain and test the payload you create. Provide the following for your integration:
Name: the name used to identify your domain
Slug: the prefixed value for your account
Notes:
Refrain from using any non-alphanumeric characters to prevent conflicts from happening. * The name assigned to your remote domain is permanent and non-transferable.
You can have only one remote domain per user account, and you should use a single remote domain per site (created using the moderator account).
Click Save Changes when you're done.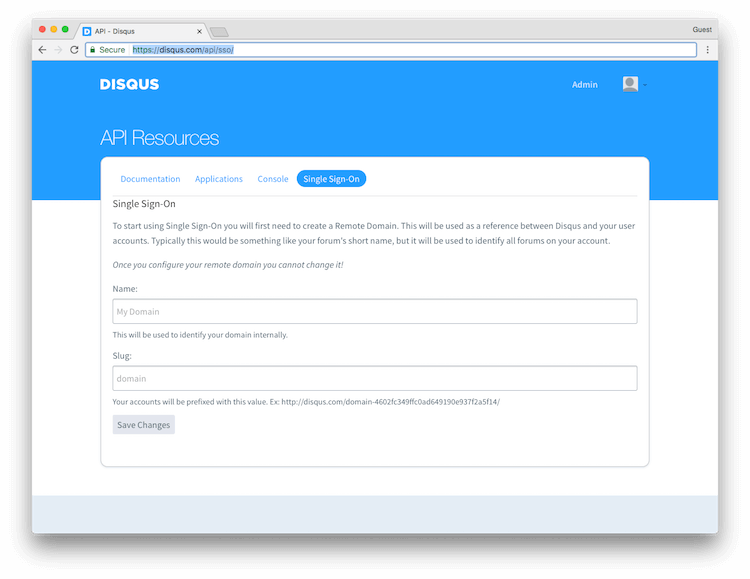 Return to the Settings page of the Applications tab.
Scroll to the Settings section and provide the following information:
Domains: the domain(s) of the site in which you've embedded Disqus;
SSO Domain: the Disqus account for which you have SSO enabled.
Under the Authentication section, provide the following information:
Default Access: Set to Read and Write.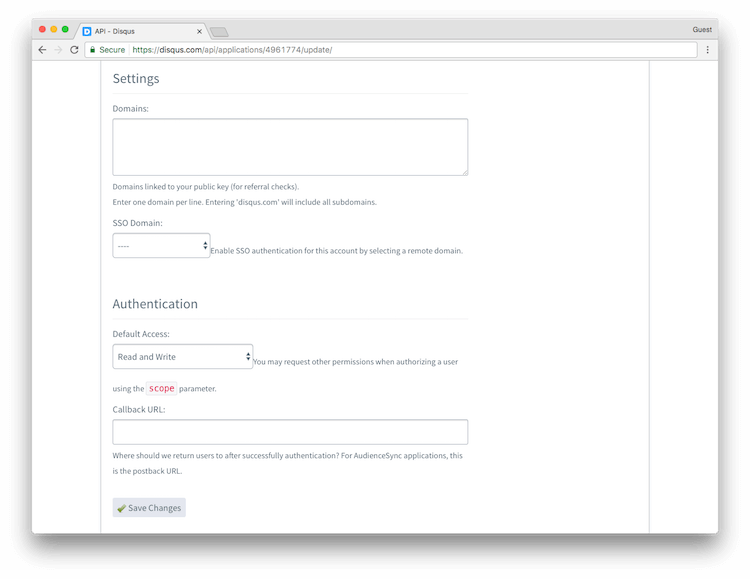 When done, click Save Changes.
At this point, SSO is fully configured for your Disqus account. You will now need to finish configuring the integration from the Auth0 side.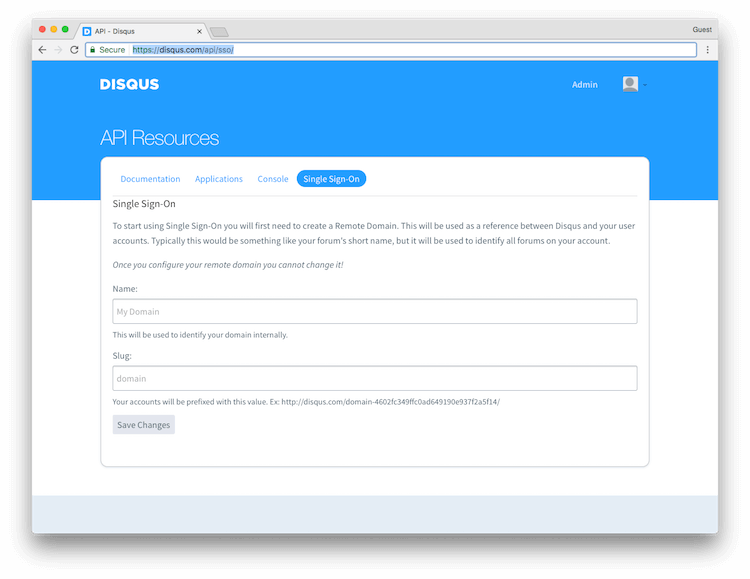 Integrate Disqus with Auth0
At this point, you will embed code onto your site that will generate a secured message that is passed to Disqus.
When you are signed in to Auth0, you have user information including (but not limited to):
user_id;
username;
displayName.
You can host server-side code that generates the secure authentication message to pass the user's data to Disqus. This message contains three parts, each of which is separated with a single whitespace character:
The message body in a JSON-serialized form;
The HMA-SHA1 signature;
The timestamp of the message.
You can host this code server-side as a Node service that's protected by Auth0 so that only authorized entities can access it.
To complete the integration and pass the authentication data to Disqus, you'll need to add user-related entries to the disqus_config variable in your app's code.
At this point, you will see the option to SSO using Disqus when authenticating in to your app.