Lock UI can be customized by creating your own A0Theme and overriding the default one before displaying A0LockViewController:
How to configure your Theme
Lock's UI is composed of several parts that can be customized
Here is a list of the available values that can be customized: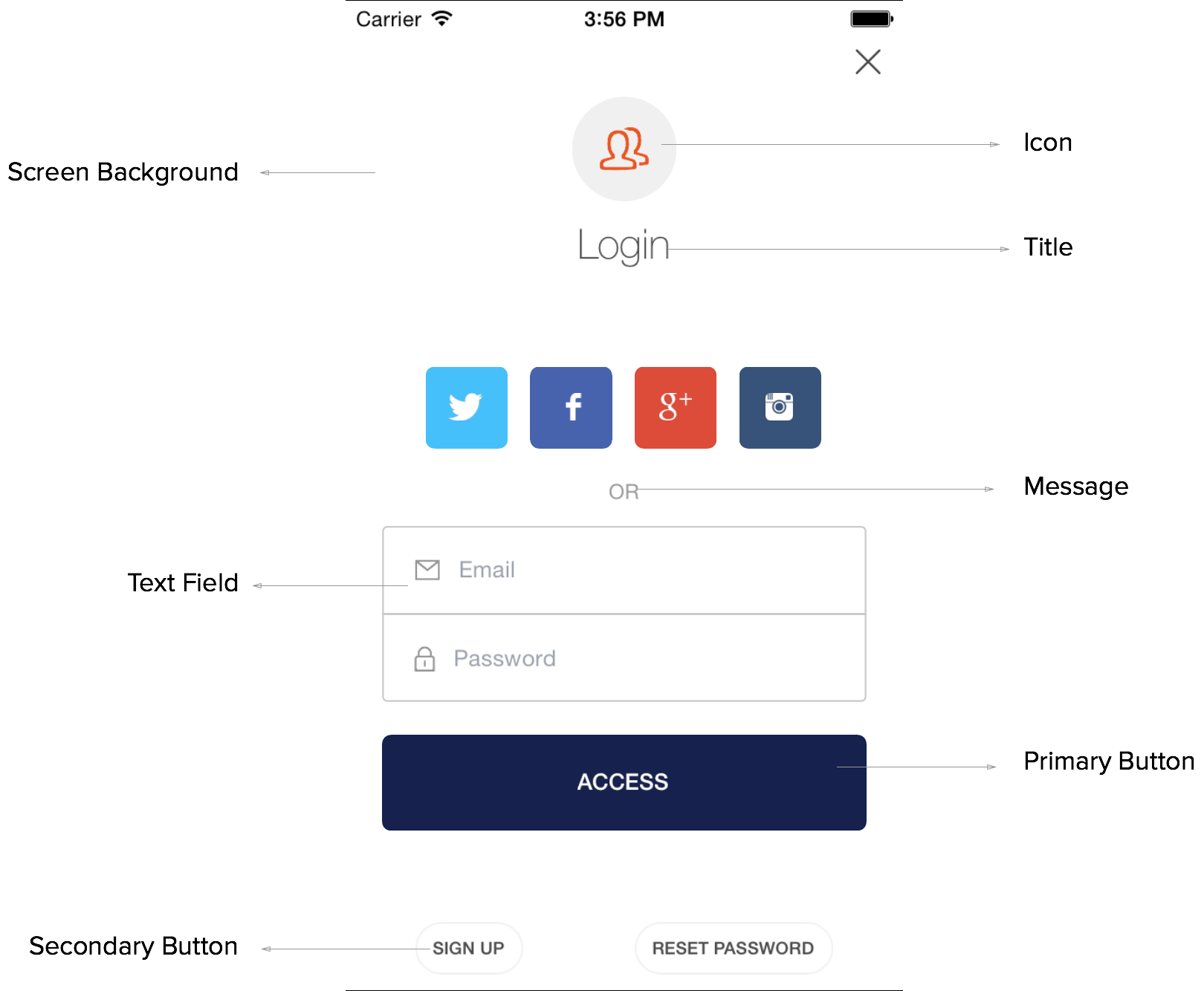 You can either configure some type of properties which are:
Color: UIColor instance.
Image: NSString with image name.
Font: UIFont instance.
Example Usage
This is the list of properties that can be customized:
A0ThemePrimaryButtonNormalColor
A0ThemePrimaryButtonHighlightedColor
A0ThemePrimaryButtonNormalImageName
A0ThemePrimaryButtonHighlightedImageName
A0ThemePrimaryButtonFont
A0ThemePrimaryButtonTextColor
A0ThemeSecondaryButtonBackgroundColor
A0ThemeSecondaryButtonNormalImageName
A0ThemeSecondaryButtonHighlightedImageName
A0ThemeSecondaryButtonFont
A0ThemeSecondaryButtonTextColor
A0ThemeTextFieldFont
A0ThemeTextFieldTextColor
A0ThemeTextFieldPlaceholderTextColor
A0ThemeTextFieldIconColor
A0ThemeTitleFont
A0ThemeTitleTextColor
A0ThemeIconBackgroundColor
A0ThemeIconImageName
A0ThemeScreenBackgroundColor
A0ThemeScreenBackgroundImageName
A0ThemeDescriptionFont
A0ThemeDescriptionTextColor
A0ThemeSeparatorTextFont
A0ThemeSeparatorTextColor
A0ThemeCredentialBoxBorderColor
A0ThemeCredentialBoxSeparatorColor
A0ThemeCredentialBoxBackgroundColor
A0ThemeCloseButtonTintColor