Passwordless in Lock iOS v1
A0SMSLockViewController authenticates without using a password with SMS. In order to be able to authenticate the user, your application must have the SMS connection enabled and configured in your dashboard.
First instantiate A0SMSLockViewController and register the authentication callback that will receive the authenticated user's credentials.
The next step is register a block to return an API Token used to register the phone number and send the login code with SMS. This token can be generated in Auth0 API v2 page, just select the scope create:users and copy the generated API Token.
Finally present it to the user:
And you'll see SMS login screen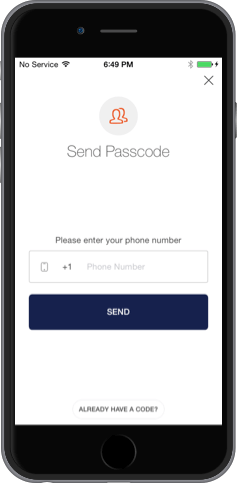 Passwordless with Touch ID
Lock provides passwordless authentication with Touch ID for your Auth0 DB connection. To start authenticating your users with Touch ID please follow those steps:
Add TouchID subspec module of Lock to your Podfile
Import Lock's umbrella header
Instantiate A0TouchIDLockViewController and register authentication callback
Present A0TouchIDLockViewController as the root controller of a UINavigationController
And you'll see TouchID login screen.