iOS-Swift Customizing Lock
Sample Project
Download this sample project configured with your Auth0 API Keys.
System Requirements
CocoaPods 1.0.0

XCode 7.3 (7D175)

iPhone 6 - iOS 9.3 (13E230)
Before Starting

You need the Lock library integrated in your project. Make sure you've followed the login tutorial and you know how to present the login dialog.
Create a Theme

Lock UI can be customized by creating your own A0Theme instance:
import Lock

let theme = A0Theme()

Configure the Theme

Lock's widget UI is composed of several parts that can be customized.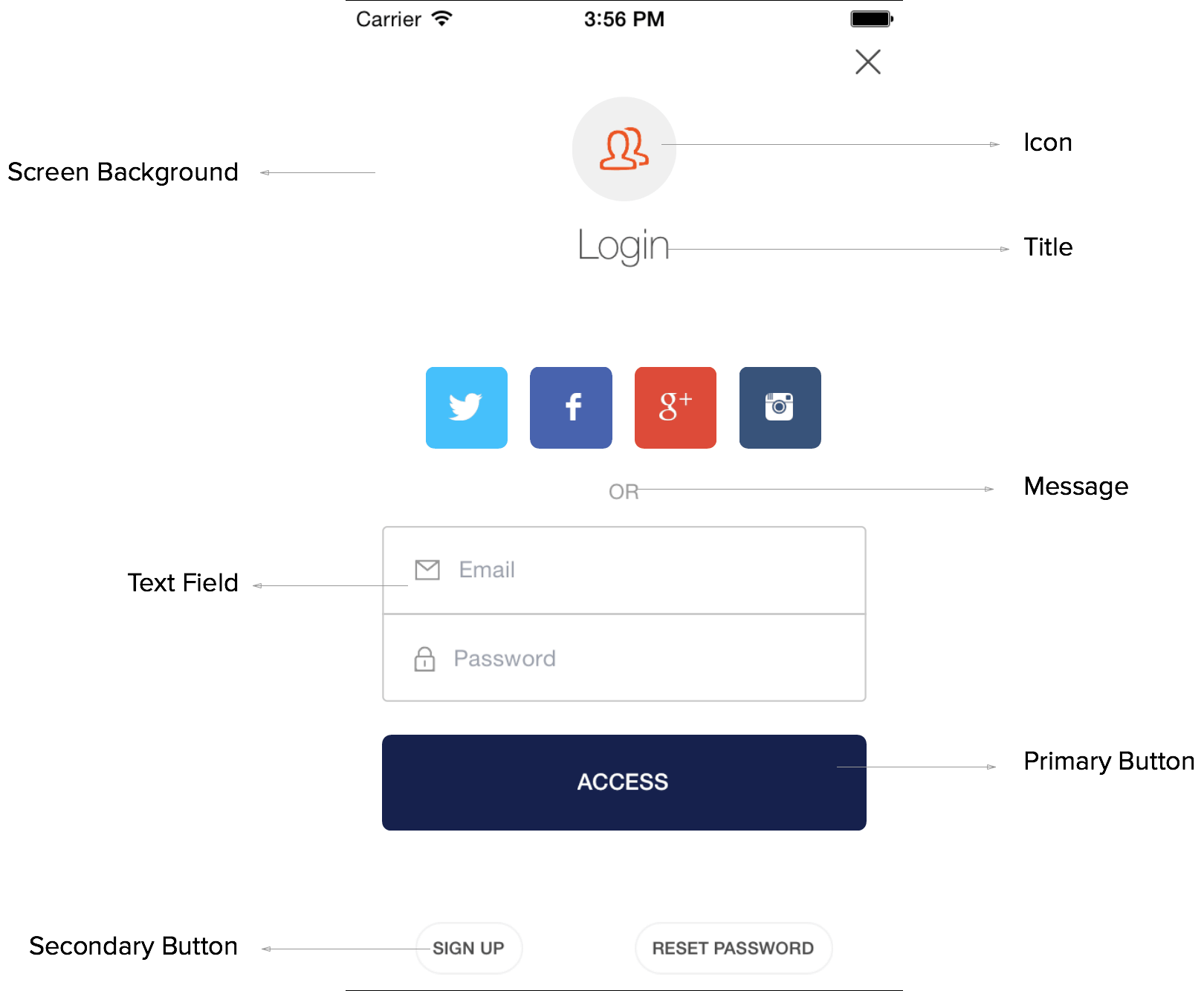 You can configure these type of properties:
Color: By using a UIColor instance.
Image: By using a String representing the image's name.
Font: By using a UIFont instance.
For instance:
theme.registerColorForKey(UIColor.redColor(), A0ThemePrimaryButtonNormalColor);

So, for example, if you want to achieve something like this: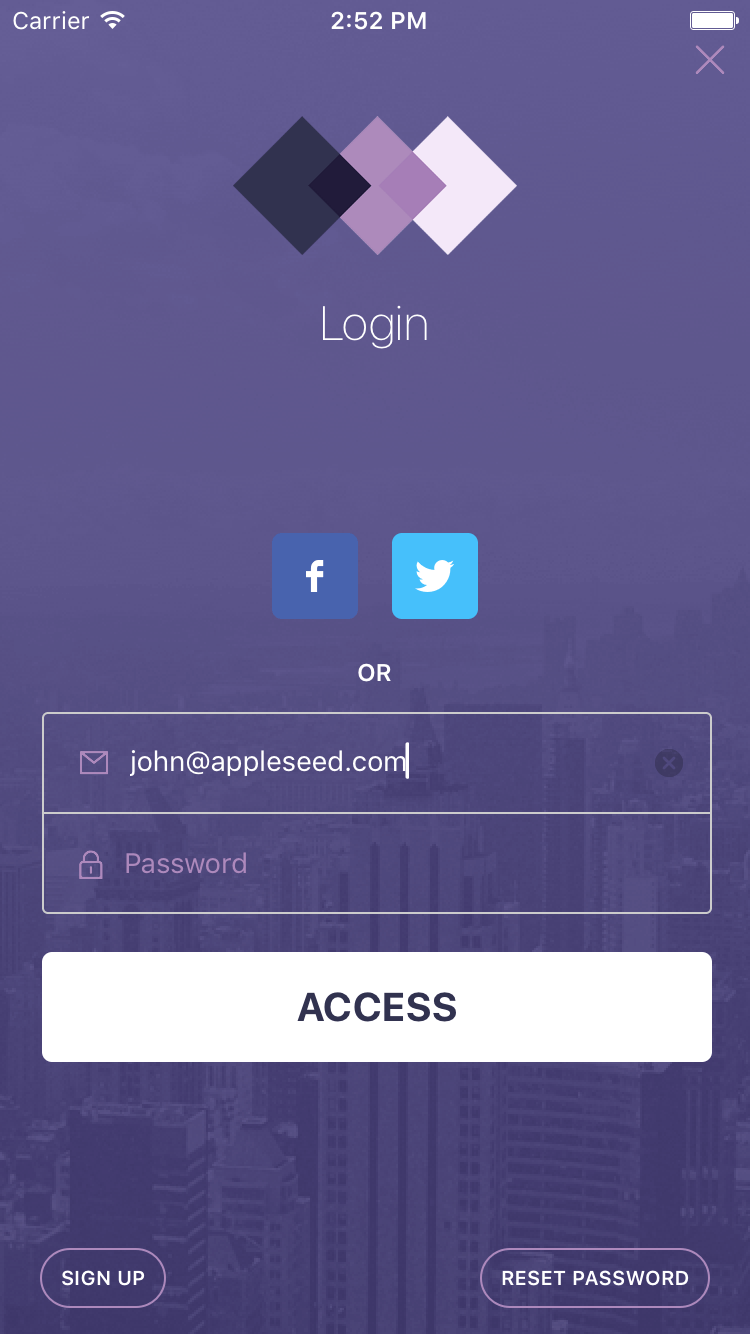 You will need to customize several parts... This is how you do it:
// 1. Change the logo:
theme.registerImageWithName("custom-logo", bundle: NSBundle.mainBundle(), forKey: A0ThemeIconImageName)

/// 2. Customize the 'Login' text appearance:
theme.registerColor(.whiteColor(), forKey: A0ThemeTitleTextColor)
theme.registerFont(.systemFontOfSize(24, weight: UIFontWeightThin), forKey: A0ThemeTitleFont)

// 3. Customize the 'OR' text appearance:
theme.registerColor(.whiteColor(), forKey: A0ThemeSeparatorTextColor)
theme.registerFont(.systemFontOfSize(12, weight: UIFontWeightSemibold), forKey: A0ThemeSeparatorTextFont)

// 4. Customize the text fields:
theme.registerColor(.lightVioletColor(), forKey: A0ThemeTextFieldIconColor)
theme.registerColor(.lightVioletColor(), forKey: A0ThemeTextFieldPlaceholderTextColor)
theme.registerColor(.whiteColor(), forKey: A0ThemeTextFieldTextColor)
theme.registerFont(.systemFontOfSize(14, weight: UIFontWeightRegular), forKey: A0ThemeTextFieldFont)

// 5. Customize the primary button (ACCESS):
theme.registerColor(.whiteColor(), forKey: A0ThemePrimaryButtonNormalColor)
theme.registerColor(.lightVioletColor(), forKey: A0ThemePrimaryButtonHighlightedColor)
theme.registerColor(.darkVioletColor(), forKey: A0ThemePrimaryButtonTextColor)
theme.registerFont(.systemFontOfSize(20, weight: UIFontWeightBold), forKey: A0ThemePrimaryButtonFont)

// 6. Configure the secondary buttons (sign up / reset password):
theme.registerColor(.lightVioletColor(), forKey: A0ThemeSecondaryButtonBackgroundColor)
theme.registerColor(.whiteColor(), forKey: A0ThemeSecondaryButtonTextColor)

// 7. Add a background image:
theme.registerImageWithName("custom-background", bundle: NSBundle.mainBundle(), forKey: A0ThemeScreenBackgroundImageName)

// 8. Configure the X button:
theme.registerColor(.lightVioletColor(), forKey: A0ThemeCloseButtonTintColor)

// 9. Configure the status bar:
theme.statusBarStyle = .LightContent

3. Register the Theme

Last, but not least: You still need to register your theme before presenting the login dialog:
A0Theme.sharedInstance().registerTheme(theme)

Done!

In conclusion, here is the code snippet you need to keep on mind:
let theme = A0Theme()
// customize your theme here
A0Theme.sharedInstance().registerTheme(theme)

Appendix: Customizable Properties List

Here is a list containing all the properties that can be customized:
Primary Button
A0ThemePrimaryButtonNormalColor
A0ThemePrimaryButtonHighlightedColor
A0ThemePrimaryButtonNormalImageName
A0ThemePrimaryButtonHighlightedImageName
A0ThemePrimaryButtonFont
A0ThemePrimaryButtonTextColor
Secondary Button
A0ThemeSecondaryButtonBackgroundColor
A0ThemeSecondaryButtonNormalImageName
A0ThemeSecondaryButtonHighlightedImageName
A0ThemeSecondaryButtonFont
A0ThemeSecondaryButtonTextColor
Text Field
A0ThemeTextFieldFont
A0ThemeTextFieldTextColor
A0ThemeTextFieldPlaceholderTextColor
A0ThemeTextFieldIconColor
Title
A0ThemeTitleFont
A0ThemeTitleTextColor
Icon
A0ThemeIconBackgroundColor
A0ThemeIconImageName
Background
A0ThemeScreenBackgroundColor
A0ThemeScreenBackgroundImageName
Message & Description
A0ThemeDescriptionFont
A0ThemeDescriptionTextColor
A0ThemeSeparatorTextFont
A0ThemeSeparatorTextColor
CredentialBox
A0ThemeCredentialBoxBorderColor
A0ThemeCredentialBoxSeparatorColor
A0ThemeCredentialBoxBackgroundColor
Close Button
A0ThemeCloseButtonTintColor