MULTIFACTOR AUTHENTICATION OPTIONS
Once Auth0 has been introduced between the applications and the existing IdP or database that holds the employee identities, it can be used to easily add multifactor authentication and more to existing and new applications. Auth0 MFA features include:
(i) Use practically any of the dozens of MFA solutions that exist today including SMS Text, email, biometric, password-less and more. Broad support for MFA service providers is enabled through powerful authentication flow "rules" with Auth0, which are described below. An example of rules being used to incorporate the YubiKey USB device can be found here (https://auth0.com/docs/multifactor-authentication/yubikey).
(ii) Add contextual MFA which allows you to define arbitrary conditions that will trigger additional authentication challenges to your users for increased security, for example, geographic location (geo-fencing), address or type of network used (IP filtering), time of day, day of the week or change in the location or device being used to log in – whatever you have access to, as described here (https://auth0.com/docs/multifactor-authentication). If an external IdP is being used that already supports MFA, you can choose to use that MFA flow conditionally.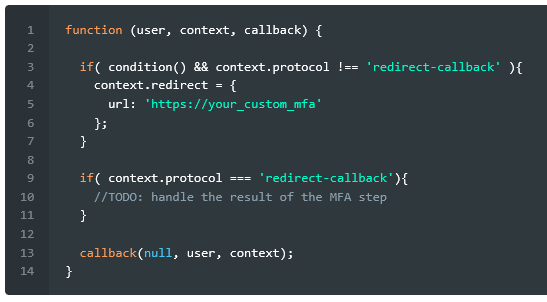 Auth0 "rule" for using any MFA service that can be accessed via a URL
(iii) With the flip of a switch in the Auth0 dashboard, add or remove the popular Google Authenticator MFA experience (https://en.wikipedia.org/wiki/Google_Authenticator) or the Duo Security MFA experience (https://www.duosecurity.com/) into the authentication flow. No rules are required to use these services, because Auth0 has already written them and made it as easy as flipping a switch.

Enable MFA for any application with the flip of a switch