Q: How can I upgrade my Auth0 Subscription?
You can easily upgrade your subscription in the Manage Dashboard by following these steps:
1. Click on your Tenant name in the upper right hand corner of the dashboard and select Settings
2. Go to the Subscription tab
3. Choose a plan based on the appropriate usage
4. Click Checkout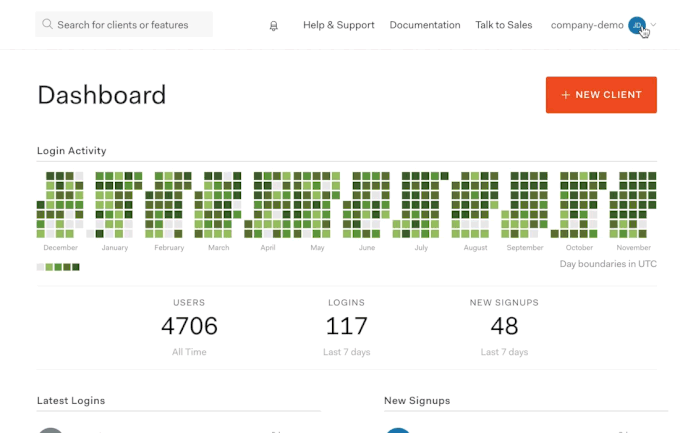 Q: What's the difference between regular users and enterprise users? How is the user count computed?
A: Users are differentiated according to what type of connection is required for them. Regular users are connected through a standard database connection (username + password), a passwordless scheme (SMS, E-mail, TouchID) or a social connection (of which there are more than 30 providers).
Enterprise users, on the other hand, are connected through an enterprise connection such as Active Directory, WS-Federation or LDAP. You can find all about the different types in our docs here: https://docs.auth0.com/identityproviders
Both the regular users and the enterprise users are counted as active if they logged in at least once within the calendar month.
Employee users are always counted, regardless of their activity.
Q: What if I am on a Start-up plan?
A: If you are on a Start-up plan, please fill out the form above and we'll verify your plan type and usage levels.
Q: What if my plan type is not listed on the pricing page?
A: Some customers are familiar with previous plan types and names, if you have questions, please fill out the form above and we'll verify your current plan name and usage levels.
Q: How do I check my subscription usage?
A: You can check your usage in our Support Center by going Reports > Quota Utilization.
Q: If I surpass the 7,000 users Free Plan do I need to select the Developer Plan with up to 10,000 users?
A: Yes, if you pass the 7,000 users mark, you need to select the Developer Plan (or any of the other plans that fit your needs) and select the right amount of users for your use case. Paid plans let you pick a custom number of users, from 1,000 up to 100,000 or more. Up to 7,000 users, a special, lower, per-user price is computed, to recoup for the users of the free plan. Regardless of the number of users you pick, you always get all the added benefits of the paid plans, such as unlimited social providers and 2 days log retention.
Q: Where can I see the user count and feature differences between the Auth0 plans?
A: To see this information, please visit the Auth0 pricing page.
Q: What if I am not the right person to handle this?
A: If you are not the right person, please fill out the form above to let us know who we should work with.
If you have any questions don't hesitate to complete the form above.