Multi-factor Authentication in Auth0
Redirect Users After Logout
Execute an Authorization Code Grant Flow with PKCE
Using the Auth0 API with our Postman Collections
Call API Using the Client Credentials Flow
Call API Using Authorization Code Flow with PKCE
Access Tokens for the Management API
Browser-Based vs. Native Login Flows on Mobile Devices
SAML
Special Configuration Scenarios: Signing and Encrypting SAML Requests
Manage Roles
Metadata
Implementation Planning Checklists
Implementation Planning Checklists
Authorization Code grant
OAuth 2.0 Authorization Framework
Send Logging Events to Segment
Auth0 Security Bulletin for Vulnerable Patterns in Custom Rule Code
JSON Web Tokens
Authorization Code Flow with Proof Key for Code Exchange (PKCE)
How to Use the JSON Web Key Set Endpoint
Connect your app to Active Directory
Session Use Cases
Use an Access Token
Authorization Code Flow
Auth0 Single Page App SDK
New Universal Login Experience
JSON Web Tokens
Add Sign in with Apple to Your App
Auth0.swift Touch ID Authentication
Validate a JSON Web Token
Which OAuth 2.0 Flow Should I Use?
Universal Login Page Customization
Enabling API Access to the Authorization Extension
Custom Database Connection and Action Script Best Practices
Auth0 APIs
Why You Should Always Use Access Tokens to Secure APIs
Access Tokens for the Management API
User profile claims and scope
Get Access Tokens for Production
Connect your app to Microsoft Azure Active Directory
Authorization Code Flow with Proof Key for Code Exchange (PKCE)
Lock Configuration Options
Auth0 APIs
Log Users Out of SAML Identity Providers
JSON Web Tokens
Call API Using the Authorization Code Flow
How to implement the Client Credentials Grant
OAuth 2.0 Authorization Framework
Call APIs from Highly Trusted Applications
Change User Pictures
Auth0 APIs
Server + API: Solution Overview
State Parameter
Lock Authentication Parameters
Installing the Authorization Extension
OpenID Connect Scopes
Mitigate replay attacks when using the Implicit Flow
Tenant's and Application's Default Login Route
How to Implement the Hybrid Flow
How to implement the Client Credentials Grant
Add Microsoft Account Login to Your App
Impersonate Users Using the Dashboard
You may need to impersonate other users for testing or troubleshooting purposes. You can:
Log in to an app as a specific user.
See everything exactly as that user sees it.
Do everything exactly as that user does it.
Auth0 provides a Sign in As feature for user impersonation, and provides the following features and information:
Detailed auditing of who impersonated when.
Restrictions on impersonation which allows you to reject an impersonated authentication transaction based on, for instance, corporate policies around privacy and sensitive data.
Unlimited customization on who can impersonate who, when, depending on whatever context, using our Rules engine. In a Rule, you have access to user.impersonated (the impersonated login) and user.impersonator (the impersonating login) and you can write arbitrary Javascript to define how it works.
Impersonation does not work with Authorization API
What is multi-factor authentication?
1. Create a Code Verifier
Installing the Collections
Calling the API from your application
Single Sign-on across native applications
Auth0 as the SAML Service Provider
What can I use Rules for?
1. Find your Segment Write Key
Trigger an interactive password reset flow
How many signing keys should I expect?
Create an AD/LDAP Connection in Auth0
When to Implement Lock vs. a Custom UI
Custom database connection best practices
Step 1: Create a Sumo Logic HTTP endpoint
Advantages of linking accounts
Index of Configurable Options
Example Scenario: ExampleCo
Change the default picture for all users
Generate a cryptographically random nonce
Scenarios for redirecting to the default login route
1. Set up your app in the Microsoft Azure portal
Impersonation and Login CSRF attacks
To avoid Login CSRF attacks, the OAuth 2.0 specification recommends that applications use the state parameter to make sure that the response they receive matches the authentication request and originates from the same session.
However, applications that check for a valid state parameter will not work with Impersonation, since Impersonation works by sending authenticated responses to applications that never requested authentication. If you are building a single-page application where the authentication results are processed by Lock or Auth0.js, you can disable checking of state to allow Impersonation.
If you are using Auth0.js, you have to update the webAuth.parseHash of the library and set the flag __enableIdPInitiatedLogin to true.
If you're using Lock, you can include the flag using the options parameter sent to the constructor.
Here's the flag itself:
Note that the enableIdPInitiatedLogin flag is preceded by one underscore when used with Lock and two underscores when used with the auth0.js library.
Additional requirements for Facebook
2. Create a Code Challenge
Configuring the Postman Environment
Obtaining an Access Token
SSO across devices/desktops/laptops
Sign the SAML Authentication Request
Get Your Application Keys
Features supporting use of custom domains
Multiple Organization Architecture (Multitenancy)
Get Your Application Keys
Get Your Application Keys
2. Record sign-up and log-in events in Segment
Get Your Application Keys
Use the Authentication API
Should I cache my signing keys?
Get Your Application Keys
Install the connector on your network
Which industry standards does Auth0 use?
User logs in with username and password
Multi-Factor Authentication
Is the Client the Resource Owner?
Get Your Application Keys
Access the Extension's API
Get Your Application Keys
Step 2: Configure the Extension
Get Your Application Keys
1. Create a new application
Supported authentication methods
Get Your Application Keys
How to implement the flow
Get Your Application Keys
Persist nonces across requests
Users bookmarking the login page
2. Add credentials to your Microsoft app
Impersonate users using the Dashboard
Use the Dashboard to log in to your app as a user.

Navigate to the Users page in the Auth0 Dashboard and select the user you want to log in as. Click on the Sign in as User and select the application you want to log in to using the dropdown menu.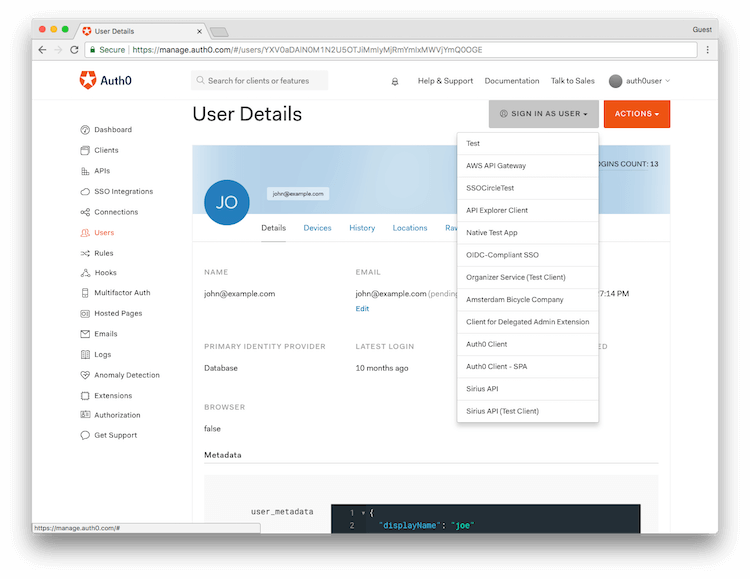 I can't see the button
Can't see the button? The following conditions are required for the button display:
The applications registered in the tenant must have at least one callback URL listed.
The applications must have the connections that the impersonated user belongs to turned on.
A popup displays the URL to be used in order to impersonate the user. You can choose either to copy the URL into the clipboard (white button) or open it in a separate browser tab/window (blue button).
Copy the URL into the clipboard (white button) or open the URL in a separate browser tab/window (blue button).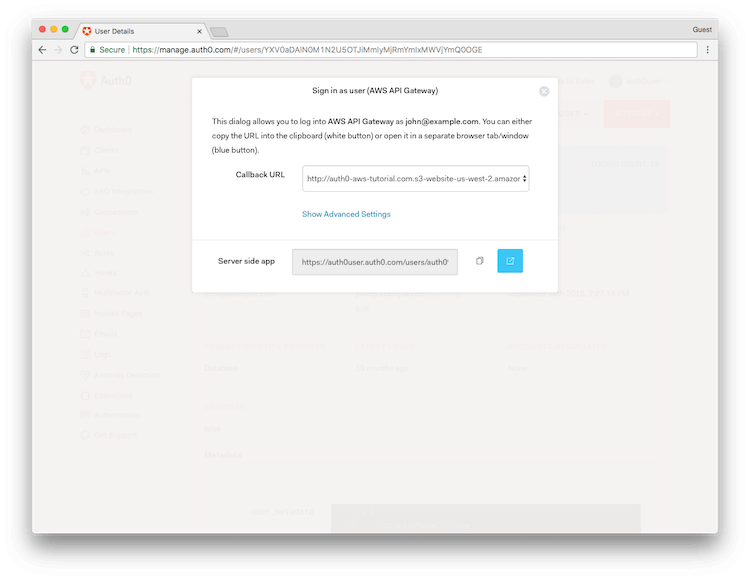 Acquiring a token
Impersonating a user using the Dashboard will not return an ID Token to your application by default. There are two ways to achieve this. You can alter the Response Type setting in the impersonation menu's Advanced Settings from Code to Token (Sign in as user -> Show Advanced Settings). Alternatively, you can add additionalParameters.scope: "openid" to the request body while calling the impersonation endpoint manually.
1. Enable the factors you require
Requested scopes versus granted scopes
Phishing and security issues
IdP-initiated Single Sign-on
Implement Universal Login
Enable/Disable Deflate Encoding
3. Check your integration
User logs in with identity provider
Implement Universal Login
Manually implement the checks
Is the Client a web app executing on the server?
Database action script best practices
Configure your Auth0 application for embedded login
Management API v1 - DEPRECATED
Token refresh flow and custom claims
Use Auth0's Node.js Client Library
2. Configure the permissions
Management API v1 - DEPRECATED
Management API v1 - DEPRECATED
Example: retrieve a token
Completing the password reset flow
3. Create and enable a connection in Auth0
When impersonating a user in Dashboard, after clicking Sign in as User you will see a link to expand "Advanced Settings."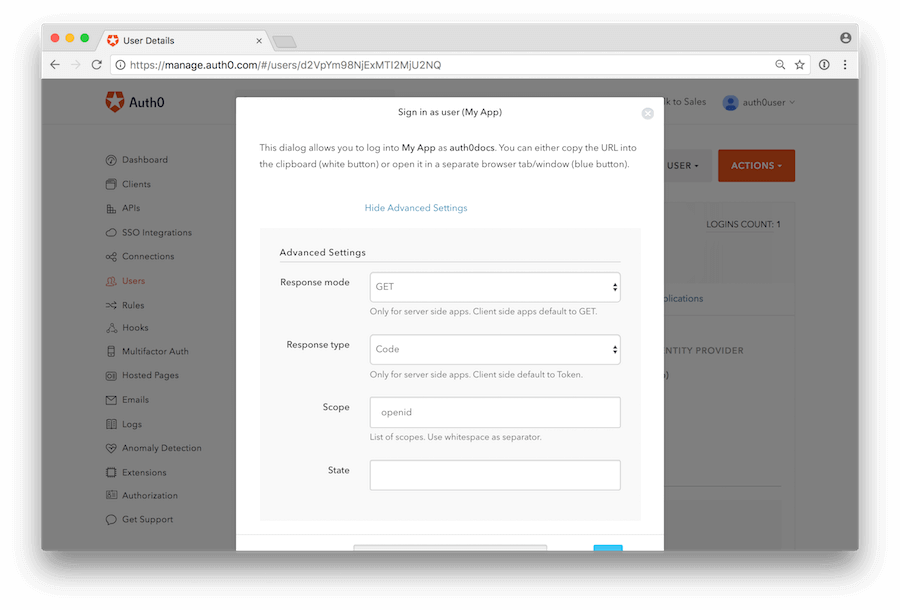 This reveals fields to make it easier to Impersonate a User Using the Impersonation API:
Response mode: GET or POST. This is only for server side apps, client side apps default to GET.
Response type: Code or Token. This is only for server side apps, client side apps default to Token.
Scope: This field will have openid in it is as default, other scopes can be added as a list using whitespace as separator.
State: The state is a required parameter and leaving it blank may lead to errors like Impersonation - Bad mac. For more information, see State Parameter.
Always require multi-factor authentication
A word about storing tokens in Postman variables
Example POST to token URL
Don't store tokens in local storage
Configure the Sample project
Use a custom certificate to sign requests
How to configure custom domains
Implementation planning checklists
Directly set the new password
Change Password Confirmation Email
For SPAs with no backend using the Implicit grant
Check that the JWT is well-formed
Is the Client absolutely trusted with user credentials?
Enterprise Support (with or without Premier Support)
Configure the Sample project
3. Allowing access from external organizations (optional)
Completing the email verification flow