Java Login
Sample Project
Download this sample project configured with your Auth0 API Keys.
System Requirements
Java 7 or above

Maven 3.0.x or above
In this step, we will enable login with the Lock widget.
Authenticate the User

You can use the Auth0CallbackHandler provided by the SDK to authenticate the user. This should work as-is based on the configuration you set up in web.xml.

For more fine-grained control, you can inherit the library version of Auth0CallbackHandler to override methods for tailored behavior. See the Auth0 Servlet ReadMe on GitHub for details.
Display Lock Widget

In order to setup Lock update the login.jsp as follows:
<%@ taglib prefix="fn" uri="http://java.sun.com/jsp/jstl/functions" %>
<!DOCTYPE html>
<html>
<head>
  <meta http-equiv="content-type" content="text/html; charset=utf-8"/>
  <title>Login</title>
  <link rel="stylesheet" type="text/css" href="/css/bootstrap.css"/>
  <link rel="stylesheet" type="text/css" href="/css/jquery.growl.css"/>
  <script src="http://code.jquery.com/jquery.js"></script>
  <script src="https://cdn.auth0.com/js/lock/10.15/lock.min.js"></script>
  <script src="/js/jquery.growl.js" type="text/javascript"></script>
</head>
<body>
  <div class="container">
    <script type="text/javascript">
      $(function () {
        $.growl({title: "Welcome!", message: "Please log in"});
      });

      $(function () {
        var lock = new Auth0Lock('YOUR_CLIENT_ID', 'YOUR_AUTH0_DOMAIN', {
          auth: {
            params: {
              state: '${state}',
              // change scopes to whatever you like, see https:///scopes
              // claims are added to JWT id_token - openid profile gives everything
              scope: 'openid user_id name nickname email picture'
            },
            responseType: 'code',
            redirectUrl: '${fn:replace(pageContext.request.requestURL, pageContext.request.requestURI, '')}' + '/callback'
          }
        });
        lock.show();
      });
    </script>
  </div>
</body>
</html>

First, we initialize Auth0Lock with a clientID and the account's domain.
var lock = new Auth0Lock('YOUR_CLIENT_ID', 'YOUR_AUTH0_DOMAIN');

Afterwards, we use the showSignin method to open the widget on signin mode. We set several parameters as input, like authParams and responseType. For details on what each parameter does, refer to Lock: User configurable options.
Display User Information

Depending on which scopes you specified upon login, some user information may be available in the id_token received.

The full user profile information is available as a session object keyed on Auth0User, you can call SessionUtils.getAuth0User() to retrieve it.

However, because the authenticated user is also a java.security.Principal object we can inject it into the Controller automatically for secured endpoints.

Once the user has successfully authenticated, the application displays the home.jsp. In order to display some user information, as retrieved from Auth0, update the home.jsp as follows:
<%@ taglib prefix="fn" uri="http://java.sun.com/jsp/jstl/functions" %>
<%@ taglib prefix="c" uri="http://java.sun.com/jsp/jstl/core" %>
<html lang="en">
<head>
    <meta charset="utf-8">
    <meta http-equiv="X-UA-Compatible" content="IE=edge">
    <meta name="viewport" content="width=device-width, initial-scale=1">
    <title>Home Page</title>
    <link rel="stylesheet" type="text/css" href="/css/bootstrap.css">
    <link rel="stylesheet" type="text/css" href="/css/jumbotron-narrow.css">
    <link rel="stylesheet" type="text/css" href="/css/home.css">
    <link rel="stylesheet" type="text/css" href="/css/jquery.growl.css"/>
    <script src="http://code.jquery.com/jquery.js"></script>
    <script src="/js/jquery.growl.js" type="text/javascript"></script>
</head>

<body>

<div class="container">
    <div class="header clearfix">
        <nav>
            <ul class="nav nav-pills pull-right">
                <li class="active" id="home"><a href="#">Home</a></li>
                <li id="logout"><a href="#">Logout</a></li>
            </ul>
        </nav>
        <h3 class="text-muted">App.com</h3>
    </div>
    <div class="jumbotron">
        <h3>Hello ${user.name}!</h3>
        <p class="lead">Your nickname is: ${user.nickname}</p>
        <p class="lead">Your user id is: ${user.userId}</p>
        <p><img class="avatar" src="${user.picture}"/></p>
    </div>
    <div class="row marketing">
        <div class="col-lg-6">
            <h4>Subheading</h4>
            <p>Donec id elit non mi porta gravida at eget metus. Maecenas faucibus mollis interdum.</p>
            <h4>Subheading</h4>
            <p>Morbi leo risus, porta ac consectetur ac, vestibulum at eros. Cras mattis consectetur purus sit amet fermentum.</p>
        </div>

        <div class="col-lg-6">
            <h4>Subheading</h4>
            <p>Donec id elit non mi porta gravida at eget metus. Maecenas faucibus mollis interdum.</p>
            <h4>Subheading</h4>
            <p>Morbi leo risus, porta ac consectetur ac, vestibulum at eros. Cras mattis consectetur purus sit amet fermentum.</p>
        </div>
    </div>

    <footer class="footer">
        <p> &copy; 2016 Company Inc</p>
    </footer>

</div>

<script type="text/javascript">
    $(function () {
        $.growl({title: "Welcome ${user.nickname}", message: "We hope you enjoy using this site!"});
    });
    $("#logout").click(function(e) {
        e.preventDefault();
        $("#home").removeClass("active");
        $("#password-login").removeClass("active");
        $("#logout").addClass("active");
        // assumes we are not part of SSO so just logout of local session
        window.location = "${fn:replace(pageContext.request.requestURL, pageContext.request.requestURI, '')}/logout";
    });
</script>

</body>
</html>

Run the App

To build and run the app using Maven, execute the following:
mvn clean install tomcat7:run

Then open your browser and go to http://localhost:3099/login. You can see the Lock widget.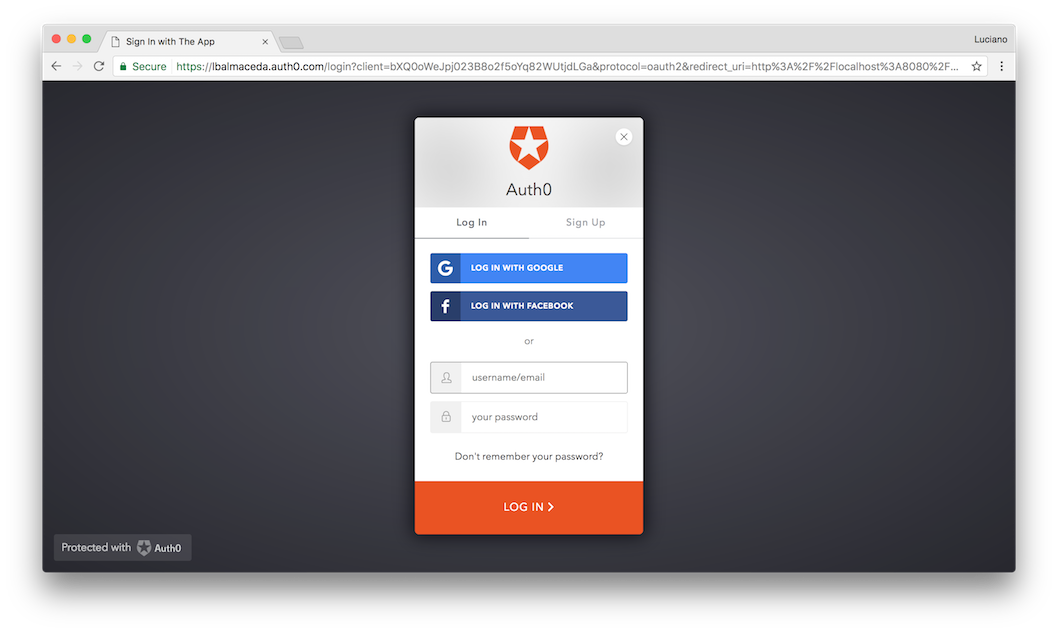 The widget displays all the social and database connections that you have defined for this application in the dashboard.
Once you login you are redirected to the home page that displays your profile picture, user id, and nickname.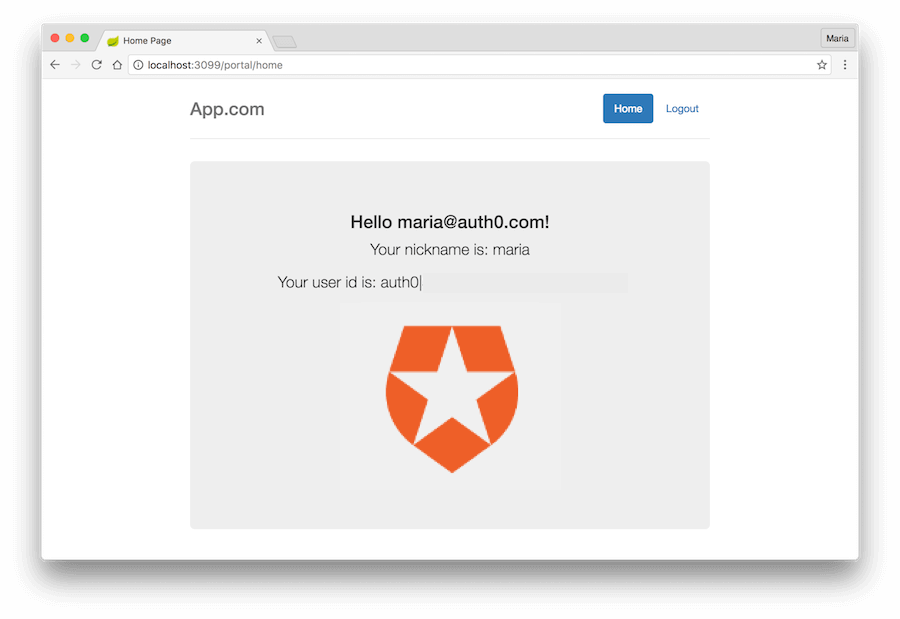 Log out by clicking the Logout button at the top right of the home page.