What needs to happen here? The user – an employee of your customer – will log in to Lodging Picks using their federated enterprise credentials. Auth0 simplifies this process, making it easy for you to implement SSO for your customers. Once a user is authenticated, you'll need to execute an on-boarding workflow that allows Lodging Picks to use the RoomSMart API to view and book RoomSMart accommodations on behalf of the user.
Why not just ask the user to log into Lodging Picks with both their enterprise credentials and their RoomSMart credentials, then link the accounts so that the user can use either account to access Lodging Picks? This approach wouldn't work: the user could access Lodging Picks even after they're no longer an employee of the enterprise, using their RoomSMart login. Access to the Lodging Picks application must only use the employee's enterprise account, through SSO.
What if you asked the user to save their RoomSMart name and password in the Lodging Picks application? This might work, but it goes against best practice. It is much less secure for both RoomSMart and the employee, could make Lodging Picks a more attractive hacking target, and accordingly might be disallowed by RoomSMart.
So how can you gain only the access you require to RoomSMart on behalf of the user, without holding their RoomSMart credentials, and while authenticating using only the user's enterprise account?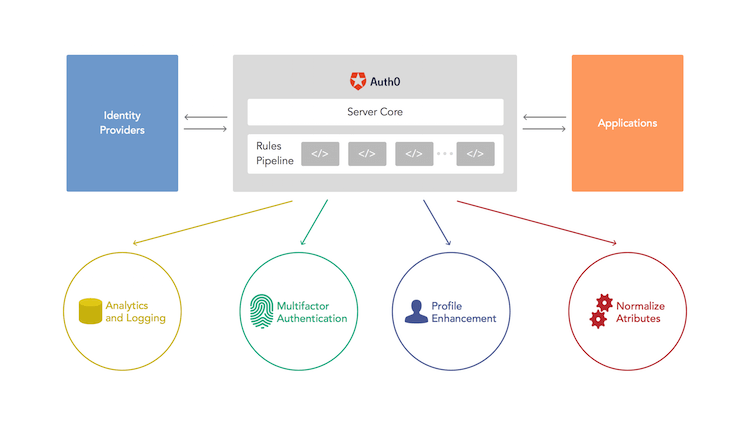 Figure 1: Auth0 Rules Pipeline
Auth0 includes a powerful feature – authentication pipeline rules – that let you add code that executes after every authentication to add custom processing. Rules can include arbitrary code that could log transactions, tie into analytics platforms, initiate additional authentication such as multi-factor authentication, or call additional APIs to access additional information or perform additional work. Rules can redirect users to external sites or services and upon return, perform additional processing on the result. This ability to add any code to the authentication pipeline is one of Auth0's most powerful features.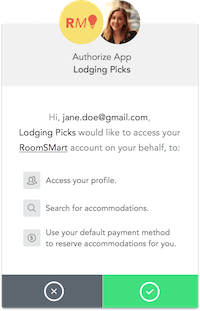 With just a few dozen lines of Javascript, you can implement even a complex multi-party, multi-protocol authentication workflow such as the one for Lodging Picks. So, we'll implement our workflow as a rule (prototype Javascript code is in Appendix A, at the end of this use case). When the rule detects that Auth0 hasn't yet saved a refresh token for RoomSMart, such as when a user first logs into Lodging Picks, it interrupts the user's authentication processing and redirects to RoomSMart's API grant page. The user then grants Auth0 permission on behalf of Lodging Picks, to acquire and securely store a user-specific API refresh token in the user's profile which can in turn be used to acquire an access token with limited access rights and short expiration. Lodging Picks can call Auth0's API to retrieveuser.app_metadata_encrypted_roomsmart_refresh_token and after acquiring the access token, perform RoomSMart lookups and bookings on behalf of the user. The user retains full control and is able to revoke this access at any time by visiting her RoomSMart account. RoomSMart also can revoke the refresh or access token. Another rule could automatically use the refresh token to acquire a new access token before the old one expires.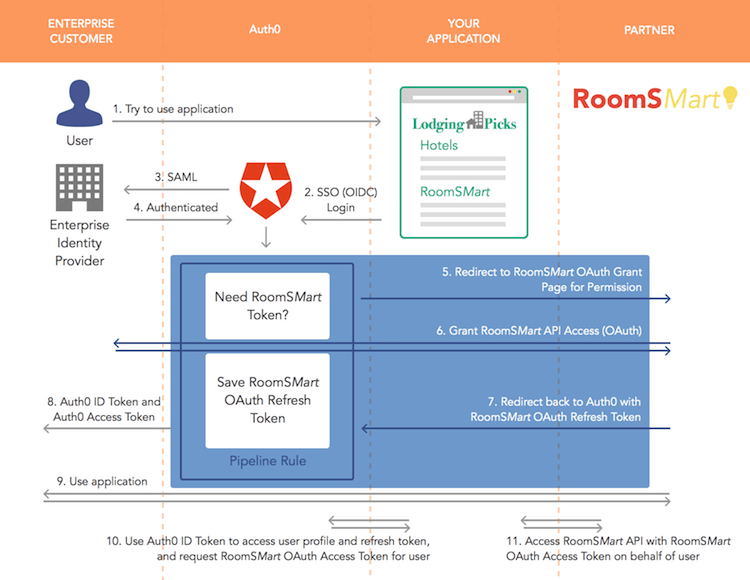 Figure 2: Example Multi-Party Authentication Workflow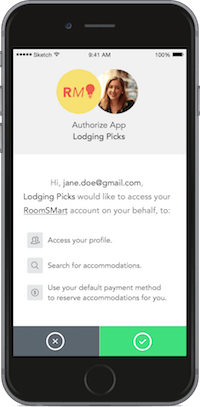 Auth0's redirect rules let you interrupt the authentication pipeline to call out to any service. You're not limited to code you've written in your application. With this powerful capability, you can leverage the web API ecosystem, or build custom integrations to enterprise applications.
Check out Auth0's comprehensive documentation and examples for more on how to implement redirect rules, and take a look at Appendix A to see a prototype of a rule that implements this specific use case.
Arbitrary code execution means you have the flexibility to compose complex authentication and authorization workflows, without building and maintaining a custom IAM solution. All using simple hooks and Auth0's comprehensive front-end and back-end platform support to speed development.
When it comes time to implement your IOS and Android native applications, your developers can leverage this production identity workflow with no extra effort – mobile apps use the same Auth0 APIs. Easy!