Connect your app to Active Directory
Auth0 integrates with Active Directory/LDAP through the Active Directory/LDAP Connector that you install on your network.
The AD/LDAP Connector (1), is a bridge between your Active Directory (2) and the Auth0 Service (3). This bridge is necessary because AD is typically restricted to your internal network, and Auth0 is a cloud service running in a completely different context.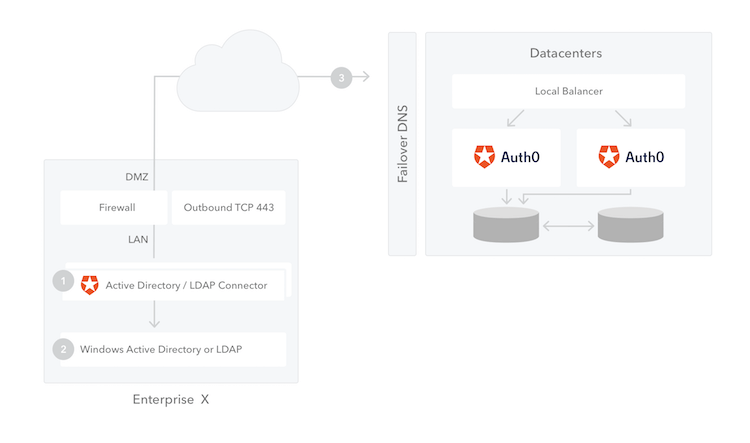 For high availability and load balancing, you can install multiple instances of the connector. All connections are out-bound from the connector to the Auth0 Server, so changes to your firewall are generally unnecessary.
Configuring an AD/LDAP connection in Auth0 requires two steps:
Create an AD/LDAP Connection in Auth0 and download the installer.
Install the connector on your network.
Create an AD/LDAP Connection in Auth0
These are the steps to connect your application. If you are looking to manage authentication in your application, see Next Steps below.
Select Connections > Enterprise > AD/LDAP from the Auth0 dashboard menu. Click the + CREATE NEW CONNECTION button and name the connection.

In the Email domains field, list the user email domains that will be allowed to login to this particular AD/LDAP connection.
If you want to use Kerberos with this connection, enter a range of IP addresses where Kerberos authentication will be enabled from. Typically, these would be intranet addresses.
If you would like to disable caching, enable the appropriate slider.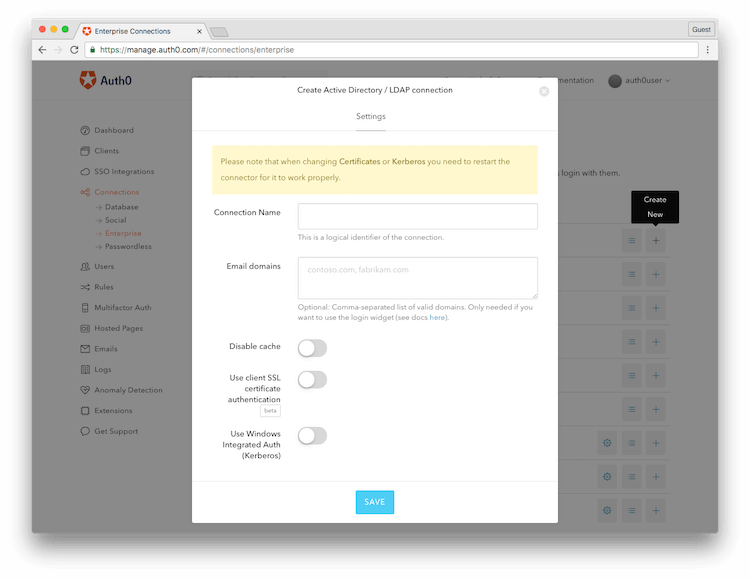 Click Save. You are done on the Auth0 side. Click the button on the next page to download the AD/LDAP Connector installer to your machine.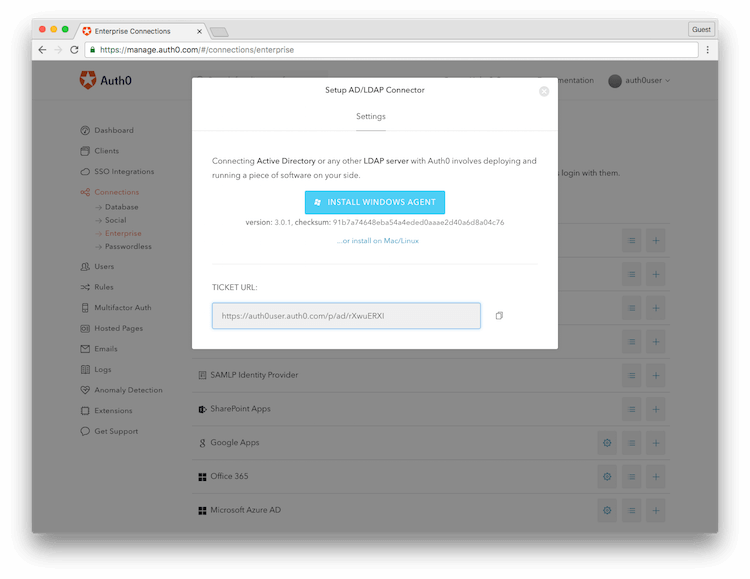 Keep the TICKET URL on hand as you will need it later.
Get Your Application Keys
Install the connector on your network
Continue to the instructions on how to Install the Connector.