Work with Zones in the Managed Private Cloud
Beginning with Managed Private Cloud Release 1910.0, you will be able to:
Group your Auth0 nodes into zones
Uniquely configure each zone so that each zone has its own parameters and configuration settings
If you have multiple nodes, you can group the nodes into zones. For example, you might group six nodes as follows:
Region 1 consists of nodes a0-1, a0-2, and a0-3.
Region 2 consists of nodes a0-4, a0-5, and a0-6.
Each zone has its own configuration, which informs the base configuration for a zone (therefore, the configuration for a node is inherited from the zone).
You can create new zones via the Private Cloud Dashboard.
Go to <manage_url>/psaas/dashboard (replace manage_url with your specific URL). In the left-hand navigation bar, click Zones.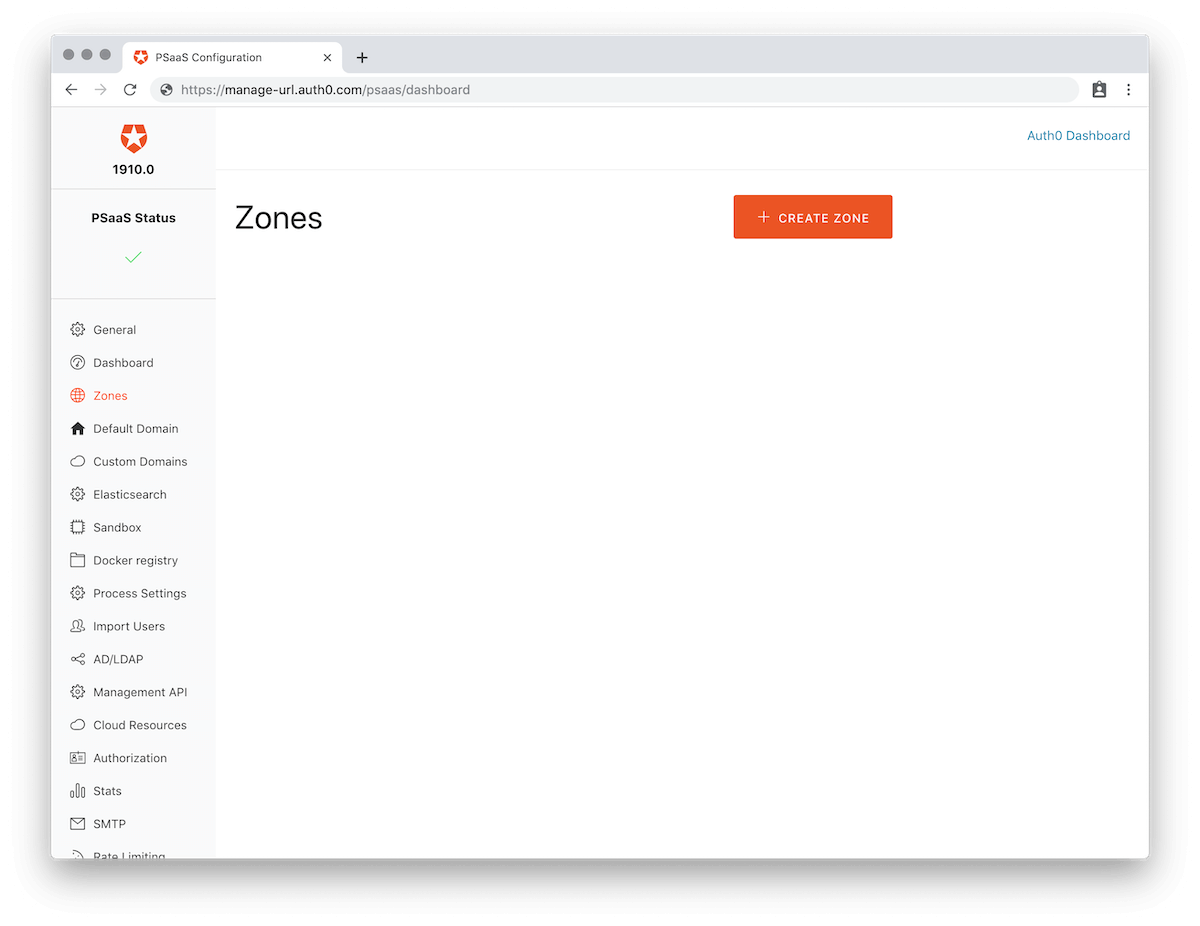 In the top-right corner, click Create Zone. Auth0 will create for you a new, inactive zone.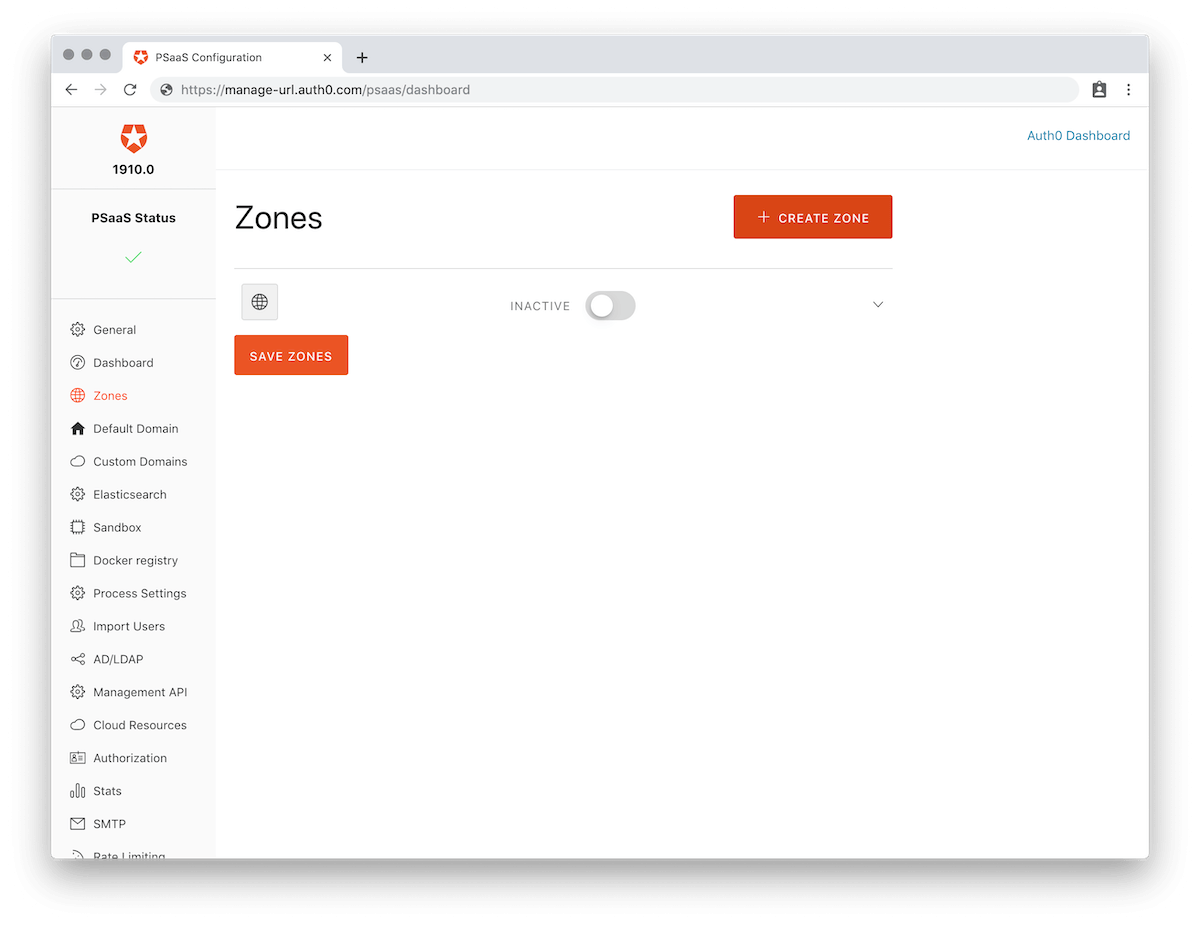 Click on the downward pointing arrow to reveal the zones creation screen. You'll be asked to provide a Name for the zone, as well as the nodes you want to be Members of the zone.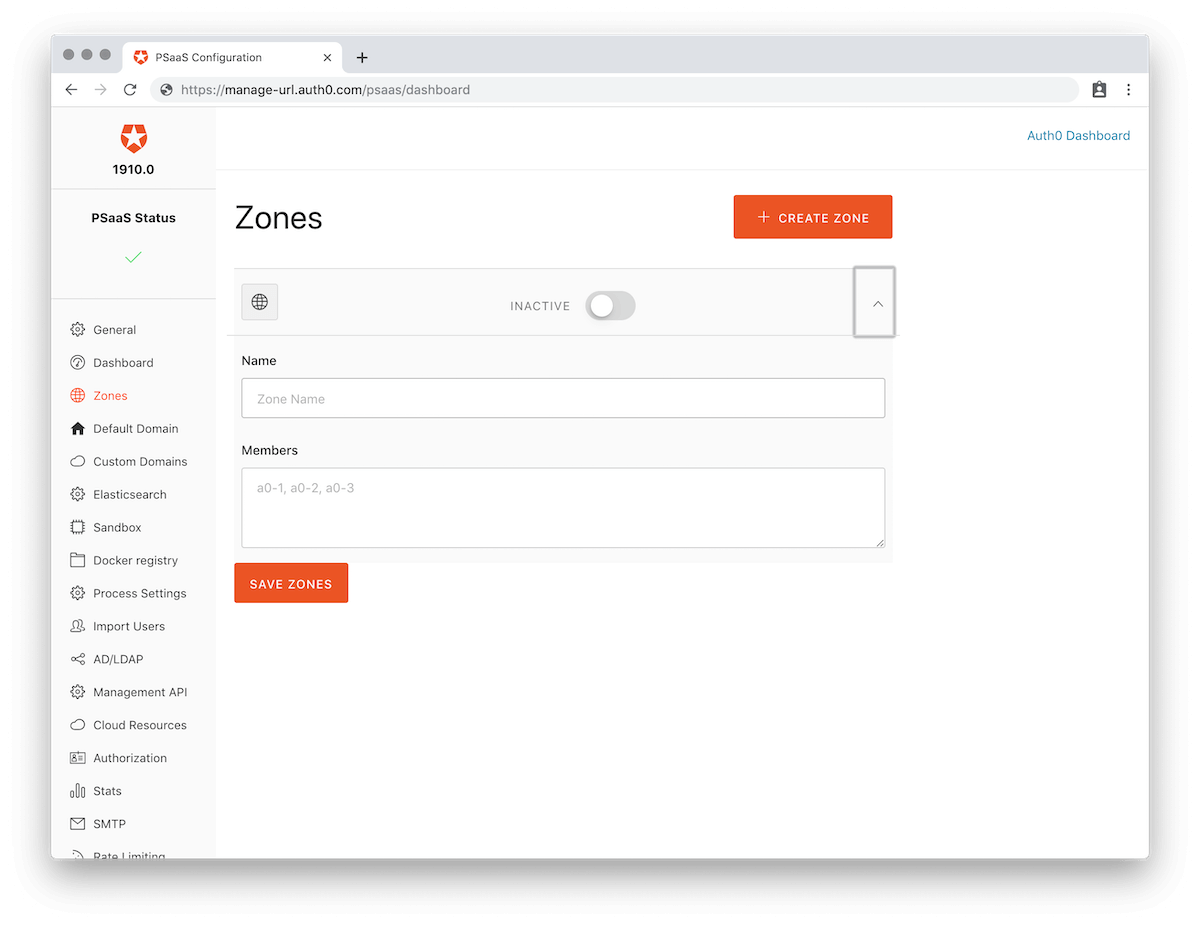 Once you provide a Name and indicate the Members of the zone, you can click Save Zones to persist your changes. Your zone remains inactive until you switch the toggle to Active (only one zone may be active at any given time).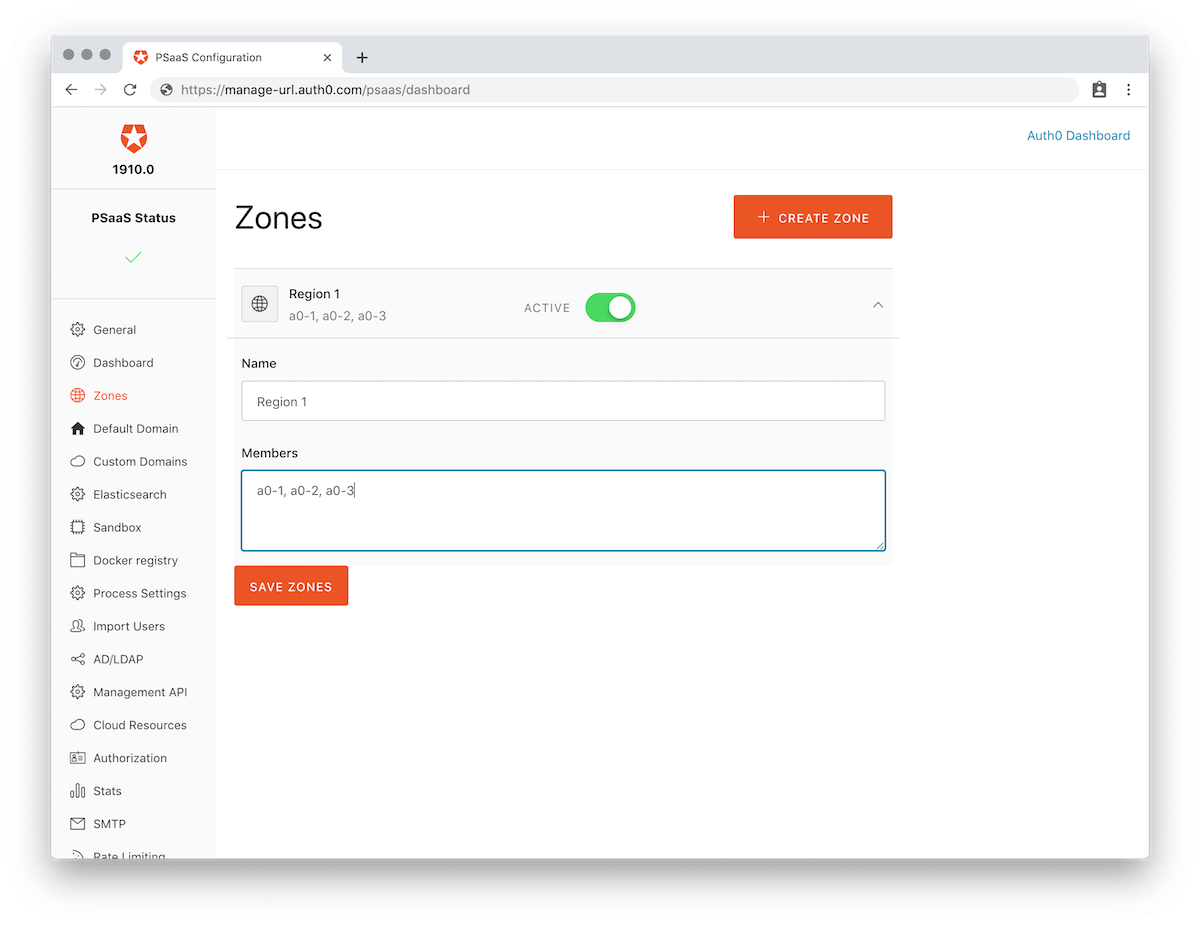 Once you have a zone created, you will see a new drop-down menu in the left-hand navigation bar.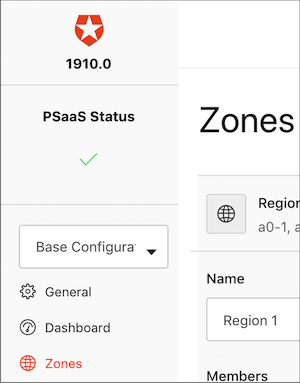 This new drop-down menu allows you to switch between zones for configuration.

To change the configuration for your zone, go to Cloud Resources using the left-hand navigation bar.
Recall that the drop-down menu on the left-hand navigation bar allows you to switch between zones for configuration. Make sure that this area shows the zone for which you are adjusting the configuration.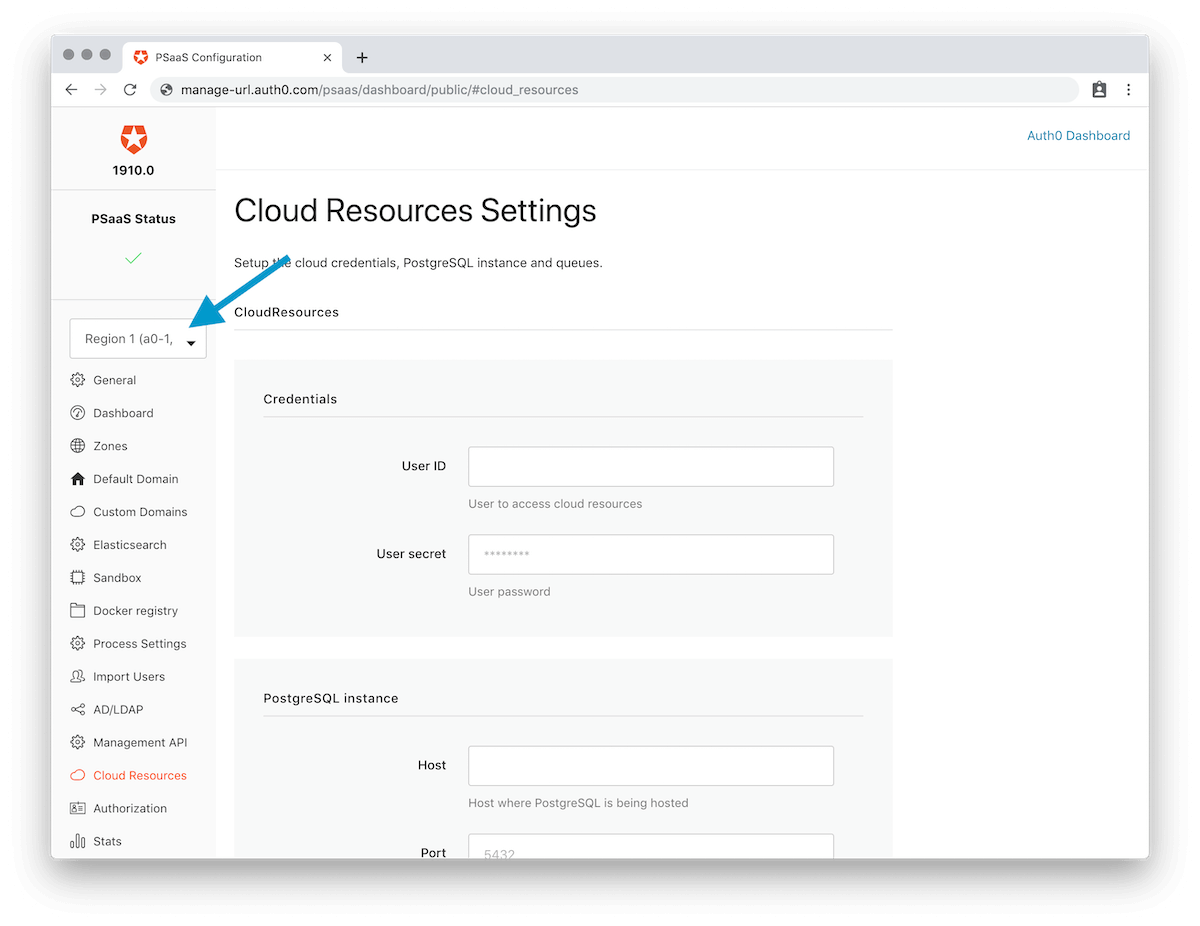 Once you've made sure that you're adjusting the settings for the correct zone, you can change the Credentials, information about the PostgreSQL instance, and Listener information.
By default, the Base Configuration, which contains the configuration parameters all nodes that don't belong to a zone get, is propagated to all nodes and is the default selection.
Any changes you make to the configuration when you have a specific zone selected will be propagated only to the nodes that are members of that zone.
When working with zones, modify parameters on a per-zone basis. Any parameters that are shared between multiple nodes should be specified at the Base Configuration level.
If your Base Configuration for your PostgreSQL instance is:
PostgreSQL:
    **host**: foo.bar
    **username**: auth0
    **password**: password

And you change, for a given zone, the host:
PostgreSQL:
    **host**: bar.baz

Then the specific configuration applied to a node that's a member of the zone is:
PostgreSQL:
    **host**: bar.baz
    **username**: auth0
    **password**: password