New Universal Login Experience
Beta
Auth0's New Universal Login experience provides a reimagined login flow, with a fresh UX design and lightweight pages. When you pick this new experience, Auth0 will use it for all pages that haven't been customized. It can be enabled from the Universal Login Settings dashboard section: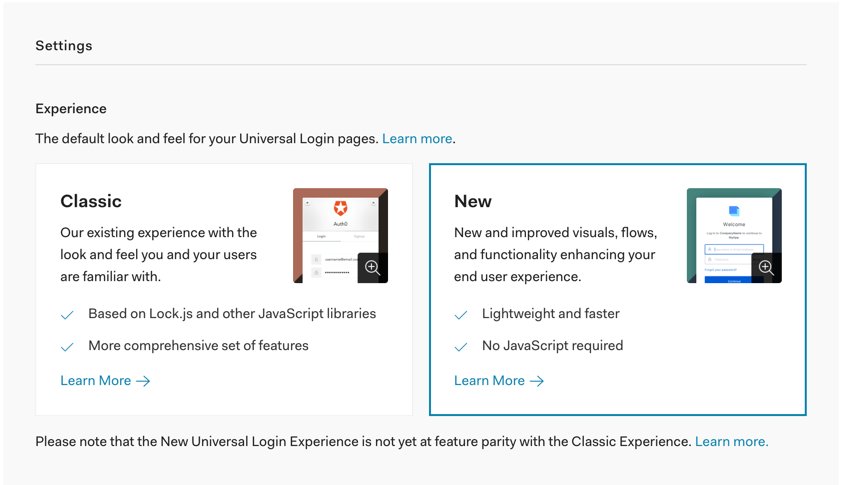 During the Beta period, we'll respond to customer feedback in a dedicated section of our Community Site.
The key structural difference with the Classic Experience is that while the former uses Javascript widgets in all the pages, the New Experience is rendered on the server and does not require Javascript. From a functional perspective, there is still a feature gap between the New and Classic experience, and some pages in the New Experience have certain differences detailed below.
If you are using Development Keys for Social Providers:

Single Sign On and Silent Authentication will work properly, which does not happen in the Classic experience.

Users will see a warning in the login page mentioning that the tenant is configured with Development Keys.

A button will be rendered for each social and enterprise connection.

A 'show password' icon will be displayed next to the password field.

If you redirect users to the /login page directly, they will get a error unless they have configured the default login route. You should always redirect users to /authorize.
Multi-Factor Authentication
If users have more than one MFA factor enrolled (e.g. SMS and Push notifications), the new MFA page will let the user select which one they want to use.
In the Classic Experience you can configure a url to redirect users after completing the password reset. The URL will receive a success indicator and a message. The New Experience will redirect the users to the default login route when it succeeds, and will handle the error cases as part of the Universal Login flow. The Redirect URL in the email template will be ignored.

A 'show password' icon will be displayed next to the password fields.
The logo and colors selected in the dashboard configuration section will be properly applied.